Read Time:
4 Minute, 32 Second
Jon Jones made a triumphant return to the UFC after three years to submit Ciryl Gane and win the heavyweight title at UFC 285 in Las Vegas.
The American was making his debut at heavyweight but needed only two minutes to become a two-weight UFC champion.
Jones, 35, forced France's Gane, 32, to tap with a guillotine choke to stake his claim as MMA's greatest fighter.
Speaking after the win, Jones referenced his "GOAT" (greatest of all time) status by saying "Baa".
He has now competed in 16 title fights in the UFC, winning every single encounter – although his 2017 win over Daniel Cormier was overturned to a no-contest.
Jones joins an elite class of fighters who have won UFC titles at two weight divisions, including Conor McGregor and his bitter rival Cormier.
Two-time heavyweight champion Stipe Miocic was cageside watching the contest, and Jones immediately called out the former title holder.
"Stipe Miocic, I hope you're training," he said. "You're the greatest heavyweight of all time and I want you. I want you real bad."
Return of the king
Jones' last appearance in the octagon was in February 2020 when he edged Dominick Reyes on points to successfully defend his light-heavyweight title.
At that time, Jones' motivation was questioned after a lacklustre performance but the fire was clearly back in the history maker as he walked to the cage.
Gane emerged first in his second attempt at becoming a heavyweight world champion, but his reception was nothing compared to the crowd's reaction to Jones' return.
"The champ is here" played out over the speakers for Jones's entrance as the man who could not be stopped at light-heavyweight set his sights on the heavyweight division.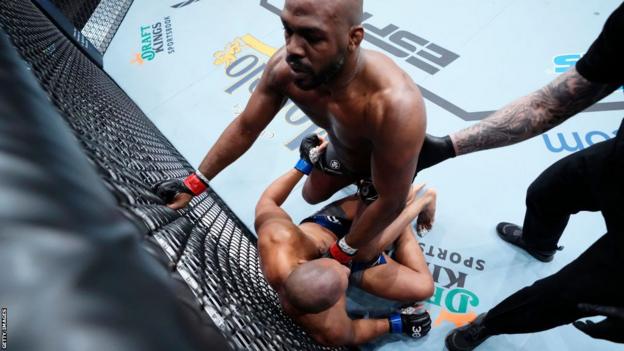 Throughout the week in Vegas, Jones had insisted the fight with Gane was a mismatch, but few could have predicated such a dominant performance.
A groin kick after seven seconds momentarily interrupted an incredible atmosphere before Jones took over.
There was barely a moment for commentators to settle into their rhythm before Jones ducked under a lazy punch from Gane and took the Frenchman's back.
Jones was able to grapple Gane to the ground and came out on top of a quick scramble as Gane tried to retreat with his back against the cage.
Jones sunk in a guillotine choke under the chin of Gane and the Frenchman tapped out soon afterwards.
The referee stepped in to stop the contest and Jones casually walked away to soak up the raucous applause before climbing on top of the octagon to celebrate further.
It marks the 27th win of Jones' remarkable career, which includes just one defeat – a controversial disqualification to Matt Hammill in 2009 – and that no-contest against Cormer in 2017.
"I had a strong conviction that if I got him down to the ground, the fight would be in my area," Jones said.
"I've been wrestling since I was 12 years old and I feel stronger, more comfortable, especially on the ground, than ever.
"With kickboxing, you never know what's going to happen. I zig, he zags. There was a major feeling out process, I actually felt a little goofy on the feet – it's been a while.
"But once I got my hands on him, I knew that's where I'm most comfortable and where I could take control."
Grasso makes history for Mexico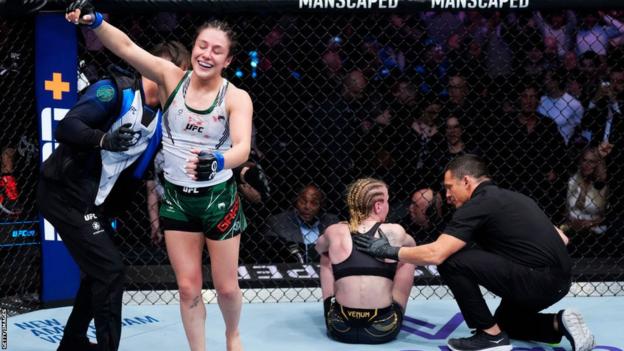 In the co-main event, Alexa Grasso upset the odds to dethrone Valentina Shevchenko and claim the flyweight title.
In beating Shevchenko, 29-year-old Grasso became Mexico's first female UFC champion.
An ill-judged spinning back-kick from Shevchenko in the fourth round allowed Grasso to take her back and submit the defending champion with a rear-naked choke.
Emotion poured out of Grasso once Shevchenko tapped, after seven years in the UFC working to become a champion.
"Please pinch me because I feel like I'm dreaming," Grasso said.
"It was training, I'm training every single day for that thing because I know she does those spinning things.
"I trained that because I know she hits hard, she's a great athlete."
Shevchenko, 34, had not lost since 2017 and that was to two-weight champion Amanda Nunes at bantamweight.
The Kyrgyzstan-born fighter is considered the UFC's best ever flyweight after claiming the vacant title in 2018 and successfully defending it seven times since then.
Grasso was unfancied coming into the contest but began strongly, utilising her striking in the early minutes and rocking Shevchenko on a few occasions.
Shevchenko went to her wrestling and takedowns and quickly took over, but Grasso remained dangerous on her feet and bided her time before a golden opportunity presented itself.



Shevchenko had made good use of her kicks, as she so often does, to keep Grasso off her, but a poorly judged attempt at a spinning back kick would spell the beginning of the end of her reign as champion.
Grasso bounced on the chance to circle to Shevchenko's back and quickly sunk in a submission.
The Mexican was in tears as she raised her arms in celebration.
Grasso improves her record to 16 wins and three defeats, while Shevchenko immediately called for a rematch after the fourth loss of her career.