Read Time:
3 Minute, 33 Second
Catalans full-back and England captain Sam Tomkins will retire from rugby league at the end of the 2023 season.
The 33-year-old said a persistent issue with his left knee has contributed to his decision, and he will take an off-field role with the Dragons.
Tomkins won Super League's Man of Steel award in 2012 and 2021.
He also appeared in two World Cups for England, captaining his country to the semi-final stage at the most recent tournament last autumn.
"Unfortunately this is going to be my last season on the field," Tomkins told Sky Sports, while working as a pundit at Friday's Super League game between Huddersfield and Castleford.
"I can't do it much longer. This year will be a push and I know I can get out there and perform this year, but I'm going to be moving into a role off the field next year, still with the Dragons.
"I still love the game, I'm still passionate about the game, I want to play and the rest of my body is saying to continue, but I've got that many issues in my left knee now that I can't go much longer.
"It's been a tough week and the club has been really supportive."
'I want to go out as a winner'
Tomkins began his career with Wigan and returned to the club in 2016 after a two-year spell playing for NRL side New Zealand Warriors – who had paid a world-record transfer fee to sign him.
He has been with French side Catalans since the start of the 2019 campaign, playing for them in their 2021 Grand Final loss to St Helens, and he is determined to finish his playing career on a high.
He continued: "I've always given 100% when I've gone on the field and I'll try to give 110% every time I get out there this year.
"It's a strange feeling knowing that it's coming to an end. Even speaking about it, it doesn't quite feel real yet.
"I've got nothing to lose and this year I want to go out as a winner. I've been very lucky to win things in my career, but my hunger now is exactly the same as it was all those years ago when I had no beard and a dodgy mullet."
Tomkins played in three Super League Grand Final wins (2010, 2013 and 2018) during his two stints with Wigan, as well as Challenge Cup-winning Warriors sides in 2011 and 2013.
At international level, Tomkins appeared in 2013 and 2021 World Cup semi-finals for England – with his country suffering dramatic exits on both occasions at the hands of New Zealand and Samoa respectively.
He was not selected by then-head coach Wayne Bennett for the 2017 tournament, in which England were beaten in the final by Australia.
'One of the best players that Super League has ever had'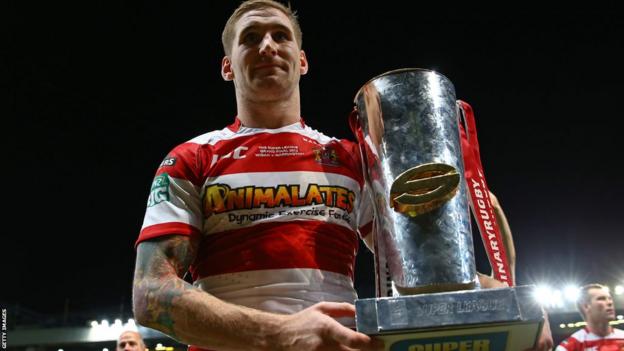 A club statement from the Dragons said Tomkins would remain at the club in a "generic role that will develop over the next few years".
The statement continued: "He will be involved in the recruitment process and will help the Dragons in a marketing and ambassador capacity, by attending certain meetings and functions for the club.
"Occasionally he will help the coaching staff with position specific training and skills. He will also have a vital role in educating the Dragons' young professionals and ensuring the strong club culture evolves."
Several of Tomkins' former team-mates at Wigan also paid tribute in a post on the Warriors' website.
Among them was current Wigan captain Liam Farrell, who said: "In my opinion you'll go down as one of the best players that Super League has ever had.
"You've cemented your legacy in the league and I'm proud to say we've grown up from being kids, playing in the same teams and we've had some great memories.
"Not only on the field winning Grand Finals and Challenge Cups, but off the field as well. We've made some outstanding memories, you've had a great career."