Read Time:
2 Minute, 50 Second
France's astonishing record-breaking win over England at Twickenham was one of the most complete performances seen in the history of the Six Nations.
There were superb displays throughout the French team but there was one individual who once again was relentless in his brilliance.
Captain Antoine Dupont, the 2021 World Player of the Year, was the maestro who ran the rugby masterclass. The 26-year-old emphasised his status as an all-time great as France ran in seven tries in a record win over their old rivals.
"He is Cristiano Ronaldo, Lionel Messi, Zinedine Zidane," said former England scrum-half Matt Dawson during Radio 5 Live commentary.
"There was a little moment when he was on the retreat, turned around and did this beautiful scan of the field – it was like watching Arnold Schwarzenegger in the Terminator where everything goes digital.
"He played this quick little chip, executed it perfectly and France were away again."
Ex-England fly-half Paul Grayson was impressed by Dupont's "power output".
"It's almost like someone has compressed a Chevrolet bull into a tiny little scrum-half. He is immensely strong," he said.
"He just picked Marcus Smith up and marched him and two or three England players back over his line. He is the absolute real deal."
'I want to have a photo with him'
After another piece of Dupont skill launched another France attack, Dawson returned to the star qualities of Dupont, who was taken off after 68 minutes with France having emphatically ended any hopes of an England fightback.
"I want to meet him," said Dawson. "I have never met him.
"There is a part of me, I want to have a photo with him. I want my kids to have a photo. He is that type of player."
'One blur of blue brilliance'
After the match, Dawson explained why Dupont is so far ahead of the rest of the world's scrum-halves.
"For this era, he plays the game… he's completely different from any other scrum-half," he told the Rugby Union Daily podcast.
"It's as if he is playing in my era where there was a lot more space and scrum-halves could have a go.
"They could make a fool of some of the forwards but you can't do that in this day and age. There's no space. The back row are super quick. You're not jinking around them so much any more.
"His delivery, his kicking, the 50:22 off the left foot was ridiculous. It's endless.
"Put everything aside and watch him. I couldn't list the seven tries, it's all sort of one blur of blue brilliance."
'His skillset is absolutely outrageous'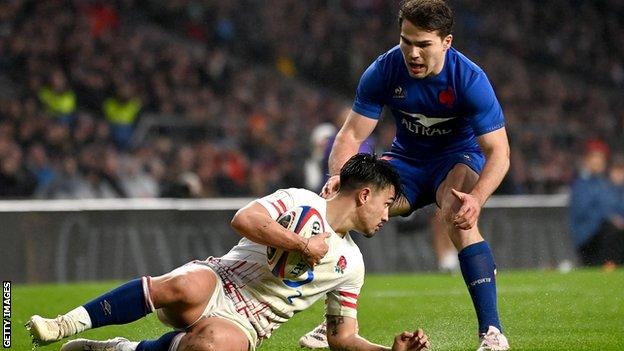 England scrum-half Natasha Hunt said she was in awe of the French talisman.
"He is just brilliant," Hunt told BBC Two's Six Nations Rugby Special. "The more I watch this guy, the more I'm in awe of him.
"Around the ruck he is just so devastating, he sits defenders down, so that gives you front-foot ball.
"His skillset is absolutely outrageous and he is on top of his game at the moment.
"I can't tell you how difficult it is to have such a good kicking game off both feet."