Read Time:
7 Minute, 15 Second
Date:
23 April
Venue:
Wembley Stadium
Kick-off:
16:30 BST
Coverage:
Watch live on BBC One, BBC iPlayer, BBC Sport website & app; listen to full commentary on BBC Radio 5 Live; follow live text on BBC Sport website.
"A fan handcuffed themselves to one of the goal posts," says Steve Gritt. "It was my first game and there was graffiti about me scrawled all over the walls."
Former Brighton & Hove Albion boss Gritt is describing the toxic atmosphere that engulfed the club when he was appointed in 1996.
Brighton are in the semi-finals of the FA Cup this weekend and challenging for a place in Europe, but the Seagulls were heading for disaster 27 years ago.
Eleven points from safety at the bottom of the Football League, the 1983 FA Cup finalists were set to drop into non-league and soon-to-be-homeless.
Brighton were in their last season at their beloved Goldstone Ground after directors decided to sell the venue to a retail developer, much to the fury of supporters.
The very existence of the club was under threat and fans were at war with the board – and anyone else associated with deeply unpopular chairman Bill Archer and chief executive David Bellotti.
"All I could hear at the press conference to announce my arrival were fans outside shouting about the club, shouting about me," Gritt tells BBC Sport.
"I thought 'what on earth have I got myself into?'".
As Brighton, seventh in the Premier League, prepare to face Manchester United at Wembley on Sunday – kick-off 16:30 BST – this is the story of their dramatic fight for Football League survival in 1996-97 told by those who lived it.
"Without Steve Gritt we wouldn't be where we are now," Nigel Summers, chairman of Brighton & Hove Albion Supporters Club, says.
"Had we dropped out of the Football League, we'd have become AFC Brighton or something like that."
'Crying my eyes out'
A retail park and supermarket sit on the site of the demolished Goldstone Ground with little evidence it was Brighton's historic home for 95 years.
The venue hosted football during the 1948 Olympics while, in 1992, future England captain David Beckham made his Manchester United debut there aged 17.
Following the decision to sell the Goldstone, it was also the scene of riots and countless protests.
In April 1996, then-manager Jimmy Case remembers locking the referee and linesmen in their room for safety after a home game with York City was abandoned following a pitch invasion by fans who feared it would be the last at Albion's traditional home.
Supporters, further incensed by their team's relegation to the basement division, swung from the crossbars and dragged down the posts.
"It was two months before Euro 96 and pictures in newspapers of fans smashing up goal posts went down like a lead balloon," adds Summers. "I was on the terrace crying my eyes out because I thought it was my last ever game at the Goldstone.
"On the following Monday, the club did a deal with the people they'd sold the ground to so we could play one more season there."
Despite a 12-month stay of execution for the Goldstone, the decline on the pitch continued as protests intensified off it against Archer and Bellotti.
'Homeless, broke – the board's a joke'
Despite relegation, former Liverpool midfielder Case – an FA Cup finalist with Brighton in 1983 – continued as manager. He describes managing Albion at that time as an impossible situation and says he did not care when Bellotti sacked him in December 1996.
Brighton were nine points adrift at the bottom of the Football League. By the time Gritt – previously joint player-manager alongside Alan Curbishley at Charlton – was appointed a week later, the gap had increased to 11 after the Seagulls were deducted two points for pitch invasions.
"I was desperate to get back into full-time football after being out of it for 18 months," says Gritt. "I convinced Brighton I would bring stability."
However, Gritt acknowledges he was not fully aware of what he was stepping into.
"I walked on to the pitch before my first game for a photograph and was met by a chorus of boos and whistles," he says.
"Then at half-time a fan handcuffed themselves to one of the goal posts. I thought 'they've got to cut him loose because we're winning and don't want another points deduction'."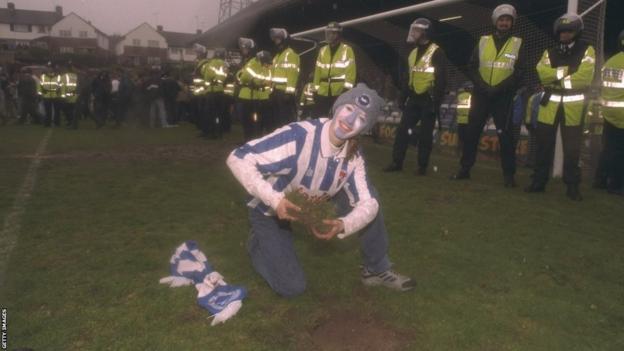 Summers says: "We thought they'd appointed a manager who would do what he was told, a puppet. Actually, Steve Gritt had a lot more about him."
The aim of the protests, says Summers, was to try to draw the Football League's attention to "mismanagement and bad ownership". Supporters from dozens of rival clubs showed their solidarity by standing alongside Brighton fans for one match at the Goldstone.
"It was reported there were 100 different clubs represented," adds Summers. "It sent a message to the Football League that we weren't giving up."
After one away game at Wigan, more than 100 travelling Brighton fans marched through the Lancashire village of Mellor, where Archer lived, carrying a huge banner which read "Homeless, broke – the board's a joke".
"Archer never came to any games while Bellotti was advised by police to stay away," says Summers. "The atmosphere was toxic. Word has it Bellotti turned up for one home match and had to be sneaked out of the ground in a wheelie-bin."
Under Gritt, Brighton won 10 of their 12 home games – including a 1-0 victory over Doncaster Rovers in the last game at an emotionally charged Goldstone Ground.
That result saw them move off the bottom for the first time in six months and meant Brighton required one point to stay up on the final day at fellow strugglers Hereford United.
A day Robbie Reinelt will never forget.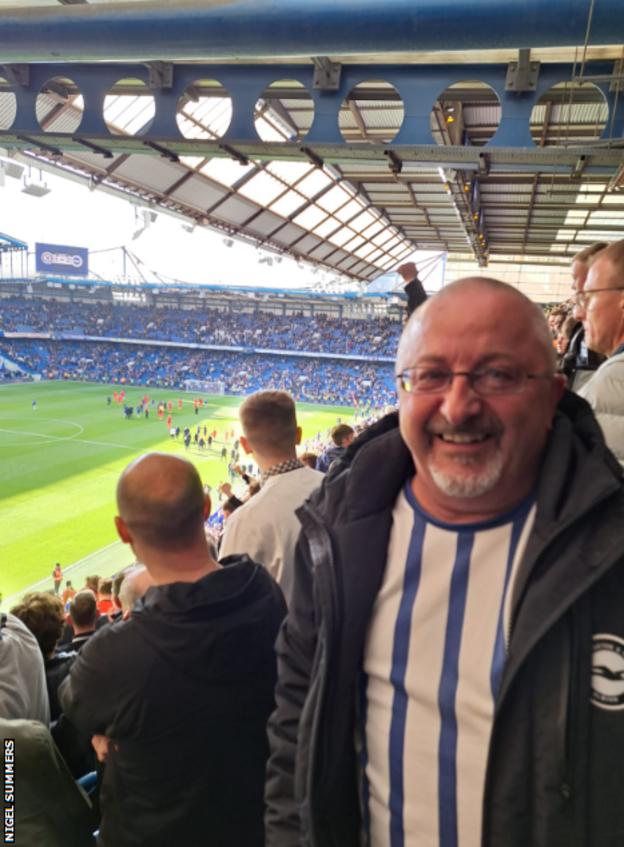 'Gritt is a hero'
Reinelt had joined Brighton three months earlier from Colchester United for £15,000.
"People said I was a fool," the former striker tells BBC Sport. "It was quite late in the season and Brighton were in real danger of dropping into non-league."
Going into the final game, Hereford and Brighton were both on 46 points but the Seagulls had scored three more goals in their 45 games at a time when 'goals for' took precedence over goal difference.
Gritt remembers having issues in the build-up to Hereford – not least where to train.
"Fans had taken bits of the pitch home with them after the final game at the Goldstone," he says. "We still had to train on it."
On the day itself, an own goal by Kerry Mayo gave Hereford a 21st-minute lead. Substitute Reinelt was sent on early in the second-half but with half an hour remaining, Brighton were heading out of the Football League.
And then, with 62 minutes on the clock, pandemonium.
"The manager said to me 'you've got to do something for us'," Reinelt recalls. "I hadn't been on the pitch long when a shot came back off the post and I was first to the rebound. Nine times out of 10 my left foot would have skied it. On this occasion it nestled in the back of the net."
It was arguably the most important goal in Brighton's history. The game finished 1-1 and Albion, who would go from strength to strength under Dick Knight's reign as chairman, were safe.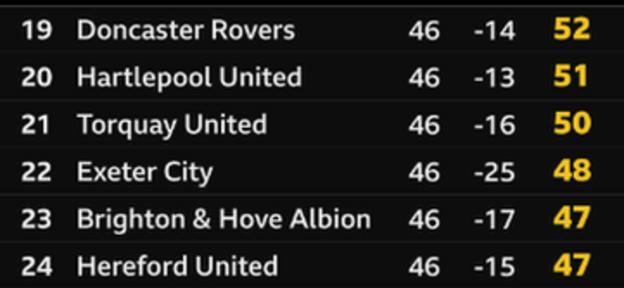 Gritt was sacked nine months later, when Brighton were playing 'home' games 70 miles away at Gillingham's Priestfield Stadium.
But he is still fondly remembered by fans as the man who helped saved Albion from disaster.
"Steve is a hero with Brighton supporters of my generation," says Summers.
"It's important to remember, especially with the FA Cup semi-final coming up, where we were in 1996 and 1997 because we never want to experience that again."