Read Time:
5 Minute, 51 Second
"Everything is a possibility" with regards to where Lionel Messi will be playing next season, says Spanish football expert Guillem Balague.
Balague says the Argentina captain has received offers from Saudi Arabia and the USA's Major League Soccer, while there is interest in bringing him back to Barcelona, albeit no official offer has been made yet.
Messi had reached an "agreement in principle" to renew his contract at Paris St-Germain for another year, with his priority to continue in elite European football until the 2024 Copa America.
After two seasons in Paris, the club, which is owned by Qatar Sports Investment, would like to convince him to accept that extra year under the same conditions as he has now.
According to Balague, the 35-year-old still needs to be the convinced the Ligue 1 side can remain competitive at the top of European football, as director of football Luis Campos has been asked to reduce the wage list to comply with Financial Fair Play regulations.
"Messi said he would stay put for that extra year as long as – because it has to be accepted by both sides – there is a sporting competitive team put together," said Balague.
"The message that Messi got was that PSG will keep the same financial conditions, which is not a problem, but that they had to reduce the wage list which makes the team less competitive.
"It is also not clear if the manager (Christophe Galtier) will be replaced and who will come in. In Qatar, the talk is that the team line-up will vary by four to five players, which makes next season a bit of an uncertainty."
A number of clubs from around the world are stepping up their own attempts to convince the 2022 World Cup winner to sign for them.
"The pressure from the club's Qatar owners is massive. They don't understand why there is a delay and would be willing to put even more money on the table. But I insist, that's not an issue," said Balague.
PSG lead Ligue 1 by six points but their 11th consecutive attempt at winning the Champions League ended in a last-16 3-0 aggregate defeat by Bayern Munich last month.
Could Messi really return to Barca?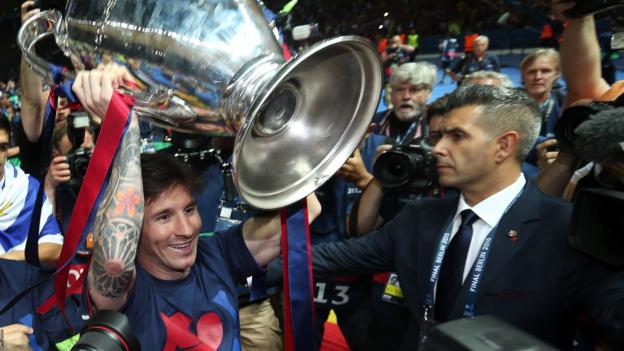 Messi, who left Barcelona for financial reasons in 2021, was met by whistles from a small section of PSG fans before they fell to a seventh defeat of 2023 at home to Lyon on Sunday.
That followed the news last week that Barcelona were in contact with Messi about returning to the club, and after stories started appearing in French media about his future that placed the Argentine in a negative light.
Jorge Messi, Lionel's father and agent, had a 25-minute meeting with Barca president Joan Laporta in a Barcelona hotel. It was the first time they had met since the day Laporta confirmed in Messi's office that the player was not going to continue at the club.
"The main theme of the hotel conversation was not the future of Leo but how can Barcelona give him an homage," said Balague.
"Leo and Laporta have not spoken but obviously Barcelona keep pushing the idea that yes, they are going to go for it. The main engine is manager Xavi who speaks very regularly to Messi and quite clearly paints him a picture of a team that needs his quality.
"Xavi tells Messi he will be used as one of the two midfielders in front of the holding one, very close to what he does with Argentina. Xavi has thought of different ways for that to work and every time Leo hears about this, his eyes light up.
"But then he hears stuff from the club like 'we're definitely talking to them and this is going to happen' from directors who suggest that this is almost a goer and I imagine his reaction is quite negative because there has been no offer at all. It's just talk coming from Barcelona."
Messi agreed a new deal with Barcelona on reduced wages two years ago, but the club changed their mind unexpectedly at the last minute. Now, with a similar financial situation, the thinking is that having Messi in the team will bring money in to keep bringing big players.
That Laporta decision in 2021 ended Messi's storied spell at the club which yielded four Champions Leagues and 10 La Liga titles – plus six Ballons d'Or.
The club have continued to struggle with their finances since.
"How is it possible that Barcelona, who are in a similar situation to what they were when Messi left, think they can afford Messi?" said Balague. "And why don't they start negotiations?
"Nobody has approached Jorge or Leo to tell them how to put all that together with a financial package. Barcelona still need to reduce their wage list by 200m euros.
"My intuition is that if they did, they would be at a disadvantage enticing Messi with the possibility of coming back. Every week that passes without an offer is one less million that they will probably offer.
"If the only offer that Messi has got to stay in the elite game is PSG, and he is not fully convinced because of their sporting situation, Barcelona can come in a month's time and say 'we cannot afford to pay what you deserve but we can actually offer you this, which won't be a lot'."
A 400m euro move to Saudi?
Messi has had an offer this week to sign for Al-Hilal in Saudi Arabia's Pro League, where rival Cristiano Ronaldo already plays, for in excess of 400m euros for one season, according to Balague.
He has also had an approach from Inter Miami in Major League Soccer, the club who his former Barcelona team-mate and friend Sergio Busquets is expected to sign for next season. Busquets is not committed to that move yet because he is hoping to be reunited with Messi.
"On the MLS, they can never pay what Al-Hilal and PSG can offer. The hope for Inter is that Messi feels it's time to abandon the elite and be in a quieter place to be ready for the Copa America," said Balague.
"Anyone that says Messi has decided one way or the other would be lying. He will take a decision at some point of course but the priority is to stay in the elite game until 2024 and the Copa America, which puts PSG still in the forefront.
"Barcelona have made no offer, the offer from Inter is very clear and has been for a while, and then the other offer for 400m-plus wouldn't keep Messi in the elite but it is a crazy financial package and the possibility of playing against Ronaldo again. So that's where we stand."