Read Time:
3 Minute, 52 Second
Date
: Sunday, 16 April
Venue
: Bescot Community Stadium
Kick-off
: 14.15 BST
Coverage
: Watch live coverage on BBC One, BBC iPlayer and the BBC Sport website. Listen on BBC Radio 5 Sports Extra and BBC Sounds. Follow live text coverage on the BBC Sport website and app.
Anna Patten has tasted success in the FA Youth Cup, but now craves glory in the senior competition as Aston Villa look to upset the odds and beat Chelsea to reach a Wembley final.
Patten, on loan from Arsenal, has come close before – she was an unused substitute for the Gunners in their 2021 final defeat to Chelsea.
She also won two FA Youth Cups with Arsenal, developing an early love for the competition.
"The first final I played in with the under-17s, I had my Scottish family come down which was unusual. I had grandparents from both sides there," Patten told BBC Sport.
"I remember they were all there with their phones out wanting me to pose for photos with the cup. It was a great feeling.
"The FA Cup is one of the greatest achievements you can have when you're playing in English football. We definitely want to stop this Chelsea team as best we can."
For Patten, who began her career at Arsenal and returned after graduating from college in the United States, says there is extra incentive to beat Chelsea because of the rivalry with her parent club.
"I'll probably get a few messages from the Arsenal girls," added Patten.
"They definitely want to see Villa in the final instead of Chelsea, seeing as they were the team who knocked Arsenal out too.
"Anyone beating Chelsea will probably make them happy. Me and [ex-Arsenal midfielder] Jordan Nobbs will take that into the game.
"A couple of the Arsenal girls might come to watch and will probably be supporting us as well. I definitely don't think they will be cheering for Chelsea!"
'Maths brain' helps with football analysis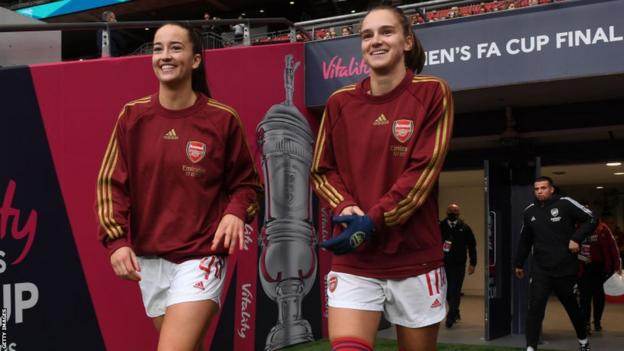 Patten studied for a degree in sociology in the United States before returning to the Women's Super League in 2021 – a year prior to her loan move to Aston Villa.
She has plans to further her education and is eyeing up a Masters degree.
Patten's interest in sociology came from a fascination in statistics and data – something she enjoys in football too.
"It wasn't something I initially thought I'd go into but I was really interested," she revealed. "The classes surprised me the most and I have more of a maths brain.
"When it comes to the stats that go into creating your own studies, I enjoyed that. I like analysis and the tactical side of football, definitely.
"I like talking with more experienced players about tactics. One of my strengths as a player is the way I read the game and understand football. I take pride in that to an extent.
"We're fortunate that we're in a time where there's lots of different places you can look at your stats and see where you can improve.
"The maths brain in me can understand it maybe more than a lot of other players so I look at it in off-seasons and see what's not high enough or how I can readjust things."
'I really appreciated it when I came back'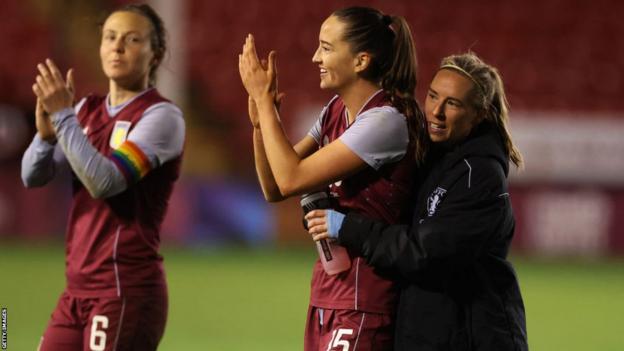 Patten's football intelligence attracted Villa and she has impressed since joining on loan in January 2022.
But the centre-back had a setback just two months into her move from London when she contracted glandular fever and had to miss the remainder of last season.
Patten had become a key member of Carla Ward's side as they fought to avoid relegation – but now she is back and keen to make up for lost time in the club's pursuit of silverware.
"It was a really frustrating one," said Patten. "We were starting to pick up form. The addition of [ex-England midfielder] Jill Scott made such a difference and we became more of a football-playing side.
"I felt like I was doing a lot of work with the coaches to develop myself as a player. It meant I had a very long summer break though.
"But I missed it massively. I wasn't really able to do anything, I was really out of it. I took that time to really appreciate it when I came back."