Read Time:
4 Minute, 27 Second
Venue:
Crucible Theatre, Sheffield
Dates:
15 April-1 May
Coverage:
Watch live on BBC TV and Red Button with uninterrupted coverage on BBC iPlayer, the BBC Sport website and the BBC Sport app
Shaun Murphy says "snooker is in the best state it has ever been in" with the World Championship set to start on Saturday in Sheffield.
His comments come despite the tournament taking place under the cloud of a match-fixing inquiry involving 10 Chinese players.
Seven-time world champion Ronnie O'Sullivan also heavily criticised the way the sport was run in March.
But Murphy said: "Snooker would get a clean bill of health at the doctors."
The Englishman added: "The actual truth is that by any measurable metric, snooker is in the best state it has ever been in – especially taking into account the pandemic and the fact we still haven't got our six or seven tournaments in China and the Far East back on line.
"If those tournaments hadn't gone, we wouldn't be having this conversation. The [Covid] pandemic hurt snooker more than most sports because it lost almost a third of its revenue.
"Yet we still led the way out of lockdown and were the first sport back to live events, ticket sales and the public being able to come and watch. Snooker should never be forgotten for leading the way out of what was a very dark time for everybody."
Four-time world champion Mark Selby, who begins his first-round match against Matthew Selt on Wednesday, added: "To lose the tournaments in China was tough but it is not really World Snooker's fault because you couldn't predict what was going to happen.
"We are hearing rumours that tournaments are going to be back on in China which would be great and going forward we could be able to add to them and make the tour a lot bigger than it is."
Snooker's financial balancing act
The loss of several lucrative events in China has understandably resulted in a reduction in prize money across the season, from £15m before the pandemic to around £11m currently.
And in a wide-ranging interview, O'Sullivan suggested that a further £50m was needed to consolidate the current tour as well offer support for those typically away from the limelight.
Snooker has taken steps to help players lower down the ladder who might be struggling financially, and so might be potentially susceptible to match fixing.
An advanced prize money scheme, introduced in October, means all 130 professionals on the World Snooker Tour are guaranteed minimum earnings of £20,000 for the 2022-23 season.
However, that makes the independent investigation into betting charges levelled at 10 players – including 2021 UK champion Zhao Xintong and 2021 Masters winner Yan Bingtao – all the more challenging, with those hearings starting in the second week of the World Championship.
All the players, who are currently suspended, face lengthy bans if found guilty of a range of offences, while another player, Mark King, awaits a separate hearing on similar charges.
"The fact these hearings are happening during the tournament is something we can use to our advantage," added Murphy, who is aiming to win his first world title since 2005.
"Dealing with it front and centre in front of the world's media shows we are trying to do the best we can, and if they are found guilty I hope we never see them again."
Spreading snooker's appeal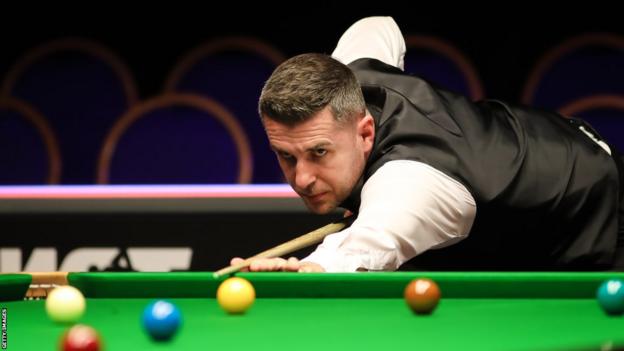 In the eight-man Tour Championship – staged for the first time in Hull, its fourth venue in five years – several players spoke of the empty atmosphere in the opening matches of the season's penultimate ranking event.
And Selby, who was beaten by Murphy in the semi-finals, says the sport's authorities could make improvements to generate further interest in the game.
"I know it was a prestigious tournament but when you think of Hull it is probably not among the most affluent places in the UK and yet you probably had some of the highest-priced tickets on the tour," said Selby.
"If I had one criticism, it would be that tournament's need to try to remain at the same venue for a certain amount of years to become established.
"You have big cities like Manchester, Birmingham, Newcastle and Liverpool and there are no tournaments there. I know venues might cost more but if you are trying to raise the profile of the game you want to go to those places."
Reigning Masters champion and 2019 world champion Judd Trump, who has long led calls for the sport to modernise and appeal to wider audiences, echoed Selby's comments, adding: "At the moment, we are in a transitional period.
"A lot of places I go people come up to me and don't know that tournaments are on, so marketing wise there is still room for improvement but you hope those running the game listen and there is a bit more backing and money to publicise tournaments.
"You want it to be entertainment as well. Other sports like football and cricket are adapting, doing things like light shows, fireworks and giveaways for fans, which snooker hasn't really delved into yet."