Read Time:
9 Minute, 13 Second
At the end of every Premier League round of fixtures, BBC football pundit Garth Crooks is on hand to give you his Team of the Week.
But who has he picked this time? Take a look and then pick your own team below and share it on social media. As ever, Garth also has his say on the game's big talking points in the Crooks of the Matter.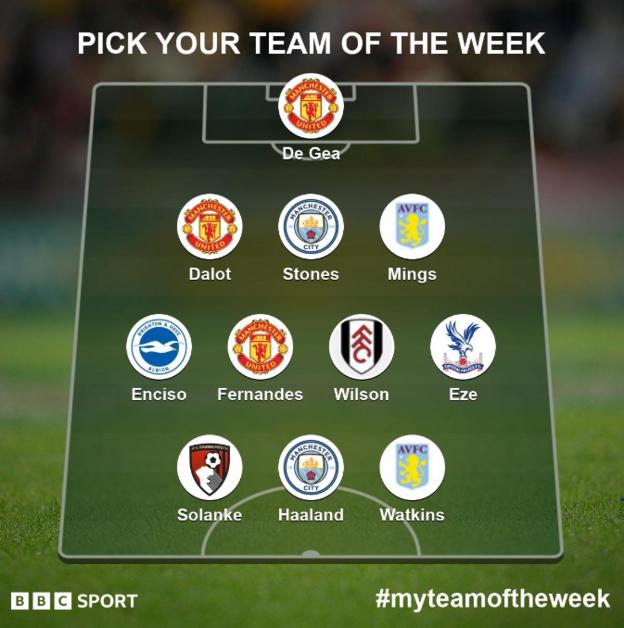 David de Gea (Manchester United): The most difficult period for a goalkeeper is when he has nothing to do and then is called upon at a moment's notice. If there is one goalkeeper capable of winning a match having spent a considerable amount of time out of the action it is David de Gea. His performance against a stubborn Nottingham Forest wasn't anything special but thoroughly dependable. De Gea has come a long way since the days he was talking about returning to his native Spain. The former international should now be the Manchester United club captain – he's earned it.

Tyrone Mings (Aston Villa): This was an impressive performance by Aston Villa. Two things stood out in this fixture: firstly, Aston Villa have been transformed under Unai Emery, and secondly, Newcastle United are not ready for the Champions League even if they do achieve a top-four place. Villa, on the other hand, look like a side who have unravelled all the complicated football and play the simple game. The player who seems to have benefited under this new regime is Tyrone Mings. The England international looks as good as I've seen him for some time. Simply doing what he does best, and that is just to compete. If he keeps playing like that a swift return to the England set-up could be on the horizon.
Diogo Dalot (Manchester United): Manchester United were one of the few teams that kept a clean sheet this weekend, but what was special about it was United are ravaged by injuries. Harry Maguire, Victor Lindelof, Aaron Wan-Bissaka and Diogo Dalot have not featured regularly in the first team this season, but you wouldn't have known that the way they performed against Nottingham Forest. Dalot was outstanding in defence and always supportive in attack and took his goal like a seasoned striker. All credit to Erik ten Hag, who has not just transformed the team but the entire squad since Cristiano Ronaldo's departure. Getting rid of Ronaldo was key to that.
John Stones (Manchester City): This is a player who has done very well to survive at Manchester City. Pep Guardiola places serious demands on his defenders and not putting the ball at risk is one of them. Not only is John Stones a better defender under the direction of the best coach in the world, but a much better footballer. Stones no longer takes ridiculous amounts of touches in a deliberate attempt to provoke strikers into trying to steal the ball from him before passing it on to a team-mate without a care in the world about the time he has left his team-mate to deal with the problem. It made Stones look good but with little consideration for his team. These days I seldom see Stones have more than two touches whenever he's on the ball, and sometimes only one touch in the bigger games – the ball moves on. He has now earned a place further up the field in Guardiola's team which is a further indication of the trust his manager has placed in him. I wonder if this is something England manager Gareth Southgate might consider.

Bruno Fernandes (Manchester United): It's good to see Christian Eriksen back in a Manchester United shirt and playing alongside Casemiro and Bruno Fernandes so effectively. They are all top-class players and on their day match-winners. Fernandes, however, was the standout midfield player against Nottingham Forest. The Portugal international is not everyone's cup of tea but when he's on his game he's as good as any midfielder in the country. As for the East Midlands club they are no longer the soft touch they were at the start of the season. Steve Cooper has assembled a team that still might survive.
Harry Wilson (Fulham): It would appear normal service has resumed with the Cottagers. Their performance against Everton at Goodison Park seemed controlled and professional, which is a far cry from what we saw at Old Trafford some weeks ago. Most importantly Fulham have learned a valuable lesson after their trip to Manchester United, and that is to remain focused whatever the circumstances. Harry Wilson epitomised that feature and played a masterful role in their victory over a poor Everton. Sean Dyche is right – Everton have fallen back into old habits and it's his job to make sure it doesn't continue.
Julio Enciso (Brighton): How come Brighton can find talent at a fraction of the price Chelsea pay and still produce better results? All credit to Brighton – they have three mini-superstars in the midst. Kaoru Mitoma is having a magnificent season, Evan Ferguson is a sensational prospect and now Julio Enciso, the 19-year-old from Paraguay who ripped the heart out of Chelsea with a magnificent strike. Chelsea could complain about this fixture being played on Saturday and not Sunday because of their midweek Champions League fixture with Real Madrid, but I wouldn't advise it. They have enough international players to field three teams. Graham Potter and Frank Lampard's failure to handle the resources available to them is telling. The ability to rotate the squad while competing for European glory and keeping pace with domestic matters at the same time is key to the success for any manager at a big club. There is no doubt the defeat in Madrid took its toll, but Chelsea have the resources to cope with that.
Eberechi Eze (Crystal Palace): Victories against Leeds United and now Southampton have not convinced me that Patrick Vieira could not have won these games, having played the teams above them and done all the hard work by putting 27 points on the board, before he was unceremoniously sacked by Crystal Palace. Vieira's departure only serves to suggest something more than results was responsible for his exit. What I do find interesting is his departure has not affected the team's performance in any way – in fact they look a happier bunch. Against Leeds it was Michael Olise who caught the eye, and Eberechi Eze, who has been flirting with stardom for some time, who destroyed Southampton. Six points in two games under Roy Hodgson has virtually secured the Eagles' position in the Premier League, but Hodgson is almost as old as time itself and can't go on forever. So what happens now?

Erling Haaland (Manchester City): They destroyed Bayern Munich in midweek and then did the same to Leicester City with half the fuss and minimum effort. Manchester City and in particular Erling Haaland are firing on all cylinders. They have one foot in the semi-finals of the Champions League with the return leg at Allianz Arena a formality, then there's the prospect of them meeting Arsenal at Etihad Stadium on 26 April where, should they win, the Premier League title would be theirs to lose. However, there is no doubt in my mind City are a much more 'attractive' team without Erling Haaland, but get this: they won't win the Champions League or the title without him.
Dominic Solanke (Bournemouth): He was very unfortunate not to make my team selection last week after terrorising Leicester City at King Power Stadium. Dominic Solanke is not just leading the line for Bournemouth, he is looking every inch a quality player. It may have taken him a while, but he is certainly looking the part now. The striker exposed Tottenham's lack of professionalism and their inability to get the job done having gone ahead as early as the 14th minute. This can't go on. Tottenham's season is falling apart. They have sacked Antonio Conte for telling the truth about his team and the culture of the club, and installed coach Cristian Stellini as interim manager because chairman Daniel Levy hasn't got a clue what to do next. Well, permit me to give him a little advice: install Mauricio Pochettino immediately to bolster the fans and reassure the players on a contract until the end of the season. If he can secure Spurs a top-four spot he gets a big, fat bonus and a two-year contract and enough time to win a trophy or he's gone. Is that difficult?
Ollie Watkins (Aston Villa): I hadn't compared Ollie Watkins to Callum Wilson before, but like Southgate the fixture between Aston Villa and Newcastle presented the perfect opportunity. The England manager, watching from the stands, must have been left in no doubt that Watkins' form has blossomed since the World Cup and Wilson's has suffered. Two well-taken goals and Watkins walks off the pitch to a standing ovation. I would have been looking for the hat-trick myself, but it seems that the modern game is all about preservation. Watkins is in a rich vein of form and his manager will do whatever it takes to protect his top striker between now and the end of the season. Bringing him off to rousing applause might not replace the hat-trick, but it came mighty close.

The Crooks of the Matter
It would seem the controversy surrounding the encounter between Liverpool and Arsenal that finished 2-2 has finally been brought to an end. The incident involving the assistant referee Constantine Hatzidakis and Andy Robertson was resolved after a Football Association inquiry found the assistant referee had no case to answer.
And I should think so.
The incredulity on Robertson's face having received the reflex reaction from the referee's assistant. The defender had after all come at such a pace to confront the official, it was perfectly natural for the startled Hatzidakis to raise his elbow as a defensive mechanism. The way Robertson then turned to his team-mates in astonishment to complain that he had just been 'deliberately' elbowed was bordering on pathetic. The international defender should have known better. Had he tried that stunt in his native Scotland, in a match of no significance with an ordinary member of the public running the line, he would almost certainly have been levelled. Robertson knew exactly what he was doing and who he was doing it to. This was bullying of the worst kind and it has to stop.
Players confronting officials should have been outlawed years ago, and they only have themselves to blame. Referees' failure to use their cards in their defence has only served to make matters worse. Of course officials shouldn't raise their arms against a player and wouldn't in normal circumstances, but this was not a normal circumstance. This issue should have been about Robertson, who had no business intimidating the assistant referee in the first place.
Pick your XI from our list and share with your friends.