Read Time:
10 Minute, 57 Second
I know from my own experiences that goalkeepers usually get blamed when things go wrong, but I am still surprised that some Manchester City fans see Ederson as being a weak link in their Treble bid.
The 29-year-old Brazilian has been at City since 2017 and has won four Premier League titles from five attempts, but some of his critics would have you believe that he doesn't save enough shots and also claim that even his famous footwork is not as good as it used to be.
At first glance, some of his statistics this season might appear to support those theories about a decline – but I've tried to dig a little deeper in an attempt to show why just looking at numbers alone does not give you the full picture about a player's performances, particularly in his position.
Save percentage

Season

Clean sheet ratio

68.3%

2017-18

16/36 = 0.44

71.6%

2018-19

20/38 = 0.53

70.8%

2919-20

16/35 = 0.46

70.2%

2020-21

19/36 = 0.53

68.7%

2021-22

20/37 = 0.54

58.2%
2022-23
10/30 = 0.33
It is the context behind them which I feel is important, so I've explored that to try to explain Ederson's form this campaign and what has changed for him, as well as looking at some of the mechanics in his game and examining his technique.
I'll leave you to make your own minds up about whether all of this means he should be a scapegoat or not whenever City concede – but I think I make my own feelings about that pretty clear.
Is Ederson's save percentage a problem?
Ederson's save percentage and ratio of clean sheets this season stick out as being well down on what he has produced in the past, and that is something he is getting a lot of criticism for.
It's no different when you measure the quality of the chances he has faced and look at how the number of expected goals from those chances compare to how many he has conceded.
Again, his numbers have dropped off pretty dramatically and compare poorly to most other top-flight keepers during this campaign – he is ranked 18/22 using that metric.
Rank

Keeper/club

Expected Goals conceded

Actual Goals conceded

Goals prevented

18/22

Ederson (Man City)

23.3

27

-3.7

19/22

Danny Ward (Leicester)

37.6

42

-4.4

20/22

Mark Travers (Bournemouth)

22.6

29

-6.4

21/22

Ilian Meslier (Leeds)

48.2

59

-10.8

22/22

Gavin Bazunu (Southampton)

34.6

49

-14.4

* Min 10 games played
I think that stems from a few factors, though, and is not really down to anything Ederson is doing better or worse.
It's more the case that he was being put in certain situations, and more often, earlier in the season because of what was happening in front of him.
When I was looking to compare his individual statistics to previous campaigns, I noticed that City had used 18 different defensive combinations in the Premier League in their first 26 games of 2022-23, including 12 different centre-back pairings or trios.
That's far more than usual – they used just six centre-back pairings in the whole of 2021-22 – but most of it happened earlier this season when they were struggling to find a consistent backline.
In the past month, things have changed and, before Saturday's win over Leicester, they used just one defensive combination of John Stones, Manuel Akanji, Ruben Dias and Nathan Ake in five successive Premier League and Champions League games where they conceded a total of two goals.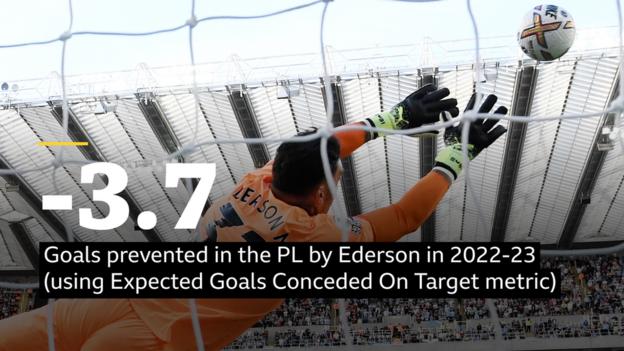 Season

Expected Goals conceded

Actual Goals conceded

Goals prevented

2017-18

24.37

24

0.4
2018-19

23.87

23

0.9
2019-20

30.38

27

3.4
2020-21

29.28

27

2.3
2021-22

25.73

26

-0.3
2022-23

23.33

27

-3.7
That stability in terms of personnel is complimented by the number of blocks City's defence is now making. In their 10 league games before the World Cup, City conceded an average of 7.2 shots inside the box, which is a lot, and only 17% of them were blocked.
In their 10 league games from 22 January to 8 April, that dropped to an average of 4.8 shots inside the box, with 41% of them blocked, so Ederson was being asked to deal with far fewer shots from there than he was at the start of the season.
It's not solely up to him to keep those shots out, so I don't think it is a coincidence that he is conceding fewer goals now the whole defence is settled and performing well. The rest of the team seems to have moved up a gear too.
Ederson's technique – a strong structure behind his saves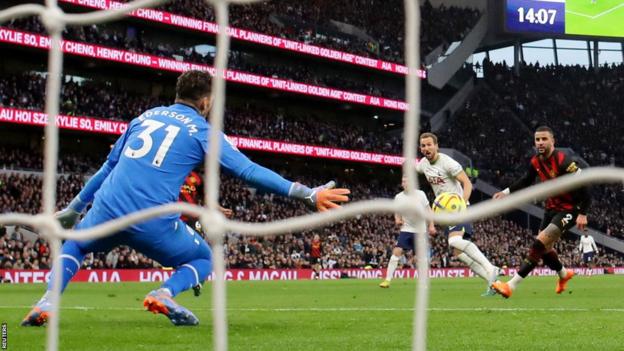 One of the other things thrown at Ederson was when he went through a run of conceding the first shot on target he faced – it happened in four games in a row at the start of February.
But when you go through those goals, there was nothing he could do about any of them. They also all happened at different times in each match, so it wasn't down to whether he was switched on or had his head still in the tunnel.
As a former keeper I really don't think it makes any difference whether it is the first shot on target you face or the fifth, when you are thinking about whether you could have done something to stop it or not.
Games

Keeper/club

Average xG of shot

13

Ilian Meslier (Leeds)

0.34

12

Ederson (Man City)

0.29

11

Emiliano Martinez (Aston Villa)

0.29

11

Gavin Bazunu (Southampton)

0.23

10

Alisson (Liverpool)

0.33

10

Danny Ward (Leicester)

0.36
There is certainly nothing wrong with Ederson's focus, or his goalkeeping technique – I watched him closely when I was working on the first leg of the Bayern tie for 5 Live last week and every time he made a save there was a really strong structure behind it. He was well and truly set, or ready and in position, whenever a shot came in and I think he has actually got better at doing that during his time at City.
The one save that stood out for me in that first Bayern game was one from Leroy Sane in the second half, when he kind of put out a big strong arm to block the ball away. It was unorthodox but effective.
Sometimes the ball is moving so quickly, that's all you can do. If he had tried to get his body behind it and make a picture-perfect sort of save, it probably wouldn't have worked out the same way.
It was the same when he had to deal with a Sane shot down to his left-hand side, where he had to get his foot out really quickly and get his left arm down.
He didn't have time to do anything else and he did really well to take the pace out of it and make it stick because he didn't offer the chance of a rebound either. It is a technique all City's keepers work on a lot, and you can tell.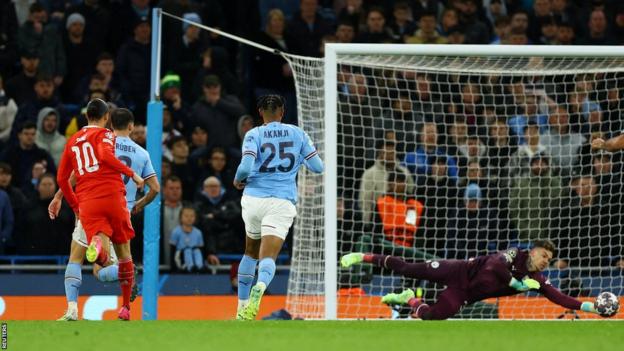 What's happened to those amazing long passes?
I think a big reason why Ederson finds himself under such scrutiny is because he has been so exceptional since joining City, especially with his feet.
Because he has done things with the ball that we'd never seen before, or even expected to ever see from a goalkeeper, the fact that he maybe doesn't do them as frequently now – for whatever reason – means he is questioned more.
In 2019, everyone was raving about these amazingly accurate long passes he was playing. In 2023, he has stopped going as long, as often, so the conclusion seems to be: 'well, he must be bad then!'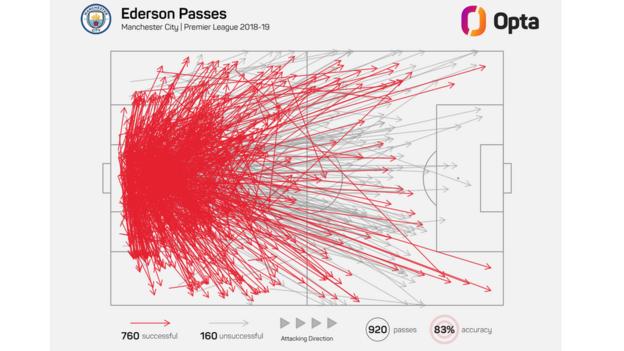 That kind of thinking ignores his long-pass accuracy of 52% is still the best of any Premier League goalkeeper this season, and doesn't take into consideration how the team's strategy has evolved during his time at the club and what the other City players or even the opposition are doing.
Ederson has definitely reduced the distances of the passes he has been playing, but he still predominantly plays balls out wide – that hasn't changed, they are just not going as high up the pitch as they used to.
His pass-map in 2022-23 is a lot narrower, which suggests the players he is targeting are closer to his goal than they were in previous seasons, because City have changed the way they try to play out.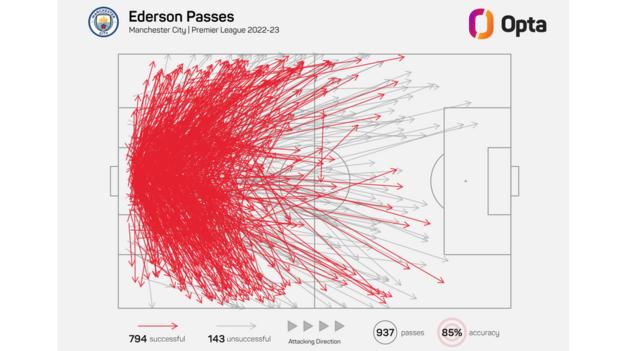 With Stones operating as a right-back but coming into midfield, when his side have possession City have an overload there, centrally, but because the midfield is narrower they are asking their wingers in their 4-3-3 formation to come deeper to collect the ball.
For me, the reason for that is because Pep Guardiola wanted to reduce the space that was left in transition – in other words, when his side lost the ball when they tried to build from the back.
When that happens now, they have an extra player in there to press the opposition quickly. Stones and Rodri are there together, rather than just Rodri as the single pivot, which left them very open.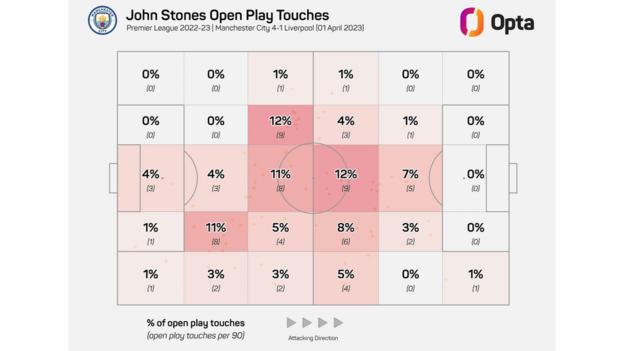 It is something they are still working on, though, and it is still a calculated risk – designed to kind of bait the press, so the opposition come out and City can play around them. When it goes wrong, it often ends with City conceding a chance… or worse.
It's impossible to be the perfect keeper
It was clear from studying Ederson closely how good he is at so many aspects of goalkeeping, but it also underlined how he is perfect for the way Pep wants City to play and to be in control of every game
For the amount of shots he actually faces, he is effectively being used as an extra outfield player. I don't know any goalkeepers who are better with their feet and that ability means City can play higher up the pitch, sustain attacks for longer and put an extra player in midfield. He's also absolutely unflappable under pressure.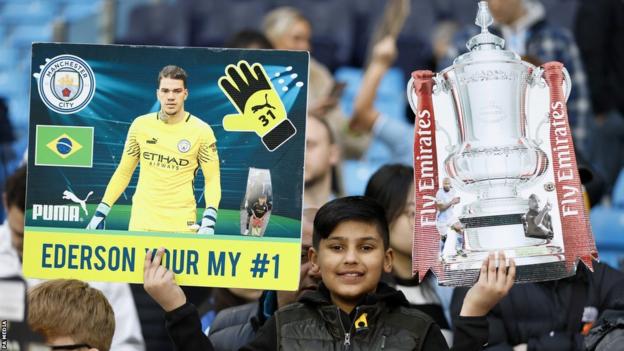 There is room for improvement in certain areas, of course. One of the things I took away from watching him across several games was seeing that he could probably be better at crosses – but that was an area he excelled at against Bayern so it is hardly a major weakness.
Still, it almost feels like constant perfection is demanded from goalkeepers in every aspect of their game, even though they are rarely put in exactly the same situation from game to game because there are so many variables involved.
I don't know whether that's got anything to do with people playing Fifa, the football video game, where your goalkeepers are automated, but it feels like they are seen as being just robots and all these different skills they need are super easy because they look so effortless when the computer is doing it for you.
It's really not like that at all in real life, where every single thing about every single situation you face is different, whether it's the trajectory or release point of a shot when you're making a save, or understanding the rate of pace that you are being closed down at when you are dealing with a backpass, while scanning the pitch so you know your options before you receive the ball.
There are so many things that are happening so quickly and so many decisions to be made in different conditions that it is inevitable you are not going to be perfect – it's just not possible, even if you are as good as Ederson is.
Karen Bardsley was speaking to BBC Sport's Chris Bevan.