Read Time:
11 Minute, 17 Second
On a March afternoon in a mattress store in the "Uncut Gems" part of Manhattan, Boygenius — the potent assemblage of Julien Baker, Lucy Dacus and Phoebe Bridgers — is trying on Victorian gowns. Craig's Beds was previously sleepily serene. Now a proper big-time photo shoot is unfolding. A constant stream of people march in: Makeup artists yanking roller suitcases; minders carrying organic grocery store bags; publicists tightly clutching iPhones. And every last one of them has to squeeze, single-file, into the narrow central walk space between all of Craig's aforementioned Beds. The musicians' hair have been done up in era-appropriate ringlet-featuring coiffures. Now they are pulling on long gloves and pearls. It is a moneyed and razor-sharp commitment to the bit.
Once in costume, Baker does pullups on a hanging pipe then lands on a mattress. When Dacus and Bridgers hop on the mattress too, they accidentally send Baker careening, and cackling, onto an adjoining mattress. Then all three brush themselves off and get to posing. "This feels like I'm taking you both to prom," Baker says when situated in the middle, arms around her bandmates. They check in on each other's attempted vibes. "I'm just looking pissed off," Bridgers reports. Someone throws a bunch of pearls around a stuffed bear and they get some pics with that too. "Our boy!" Dacus coos.
In the context of the band's ascendance, the grander sweep of the production feels only right. Boygenius is a rare collection of revered young songwriters, each with their own unique ability to make their fans cry. Dacus, 27, delicately sets a scene too evocative to deny. Baker, 27, is pure raw-nerve-endings. Bridgers, 28, can place you in the blowout fight just as someone's said something excessively mean. For the group's just-released full-length debut, "The Record," it signed with the major label Interscope. They got Oscar nominee Kristen Stewart to make a movie about them. They got Pulitzer Prize finalist Elif Batuman to do their band bio. They've already landed the cover of Rolling Stone. Later this month, they'll play Coachella. Clearly, this is a band in swaggering full bloom.
Bridgers came up with the mattress store-slash-gowns idea a few days ago, she explains afterward, clarifying there's no grander gesture there beyond a pushback to your standard musicians-try-to-look-cool shoots: "I like to look a little stupid." Lying on her stomach, she gives a stare so intensely focused it suggests she would be crushingly successful in whatever field she'd chosen. (I think of the novelist Ottessa Moshfegh telling the New Yorker that in a theoretical autocratic society she'd be "uncomfortably high up.") Baker brims over with youngest-sibling nervous energy. Dacus, preternaturally placid, is clearly the glue of it all.
"We had a long day yesterday," Dacus says, "and in the Uber home I turned to Phoebe and was like, 'I'm so glad we agree most of the time.'" She carries on speaking to Bridgers directly. "I try to think of every detail to the point of neuroses. I want to build a whole world when I make anything and I feel like you're very similar." Bridgers nods and says, "Definitely. This is the only project where I have to practice anybody else having any say other than me. I haaaate sharing control."
In this band, though, Bridgers continues, "it's great because I trust y'all . We talk all the time about the ability to leave the room and know that it's not going to get f— up." That feeling, of "trusting each other with our best ideas," is singular. Baker responds, with a shout, "Oh, s— yeah." In her past attempts at collaboration in writing sessions, Baker says, she'd be giving out "only B-stream lyrics. 'You can't have my darlings! No! That's for me!'"
Dacus comes out of a pensive moment and sums it all up: "When I write for myself, I'm basically dissociating. When I write for us, it feels like a really awesome, beautiful math problem. And when I write for other people, I'm playing Bananagrams."
"Yeah, well, that makes sense," Bridgers says, cracking everyone up again, "because I f— suck at Bananagrams."
It was Bridgers who originally broached the idea of getting back together to follow up their brief, beloved self-titled 2018 EP. Shared Google Drives and voice memos tossed into the group chat followed. "The Record" was recorded over a month in early 2022 at Shangri-La Studios in Malibu, with everyone sleeping on the premises and grinding out 10-hour days. Catherine Marks, who's worked with the Killers, Alanis Morissette and Foals, co-produced the album with the band. She recalls early morning yoga, runs and walks, then "intense long days — everyone doing something. When we'd all go to bed, we'd text each other about ideas. We were living and breathing the record the entire time. Honestly, it was the most fun I've had making a record in my entire life."
As for the content of the group chat, "the boys" — their preferred collective terminology — "are good with banter. It took me a minute to realize that. Initially I wanted to be polite and respectful. By the end, in-jest abuse would be flying through the texts."
The end result of all that hard work and loving s— talking is already landing some of the best reviews of the year. Any given point on the record belongs to any given band member — Baker's power howls on "$20," Bridgers' aching confessions on "Emily I'm Sorry" — and the results are their own lovely, defined gems. But when they all blend together, they create something altogether thrilling and new. On "Not Strong Enough," Dacus takes the bridge, chanting us into a meditative trance: "Always an angel, never a god / Always an angel, never a god." And then Bridgers and Baker jump in, almost screaming their assent. They're breaking through the walls to come back up their boy.
At some point of their working relationship, Boygenius' members realized one huge life-fact they all had in common, Dacus says: "We all benefited from people not telling us that we were s— as children." Baker and Bridgers agree, smiling, and Dacus continues: "Maybe the earlier you start, the sooner you get to something that you feel, that does the trick, that you can be proud of. The record has sonic influences but, on a deeper level, we're influenced by the space and opportunity to make bad art for a long time."
That leads to a digression about, as Baker puts it, "that one cool teacher who was like, 'Hey kid, I heard your band is releasing a record — you don't have to turn in your homework! Just an adult being like, 'What you're doing is important and it matters.'" Next comes a collective dreamy recollection of said teachers: Libby Germer, Georgianne Stinnett, Mr. Wilhite. "I was in OSS a lot," says Baker — out-of-school suspension. "I think I would have been expelled if it wasn't for Señora Robinson."
Dacus grew up in Richmond, Va., Baker in Bartlett, Tenn. Both say they never planned on music careers. Bridgers, who grew up in Pasadena and went to Los Angeles County High School for the Arts (alumni include Josh Groban and Alana Haim), had an altogether different experience. "I am embarrassed in retrospect — I was overconfident. I'm trying to look back with love at that person. My embarrassing demos are, like, an 18-year-old kid who said he worked with Justin Bieber and auto-tuned me like crazy. But I wasn't humbled till later. I wasn't like, 'Damn, I need to get better.' I was like, I'm God."
That prompts Baker to share her early days in a "bro-y hardcore music scene" where all she wanted was to "shred so much that everyone will have to respect my band, like, 'Look how many f— scales I can do f— fast, look look look look look.' And around you guys, I feel like I can be the try-hard 'pick me' guy I wanna be because that's all I ever was. And I don't feel bad about it."
Bridgers, listening carefully, says "hearing you say that is helping me love myself. That's like so sweet."
Suddenly, an interlude: Dacus has noticed I'm bleeding from the mouth. Likely I banged the lip of my metal water bottle into my gums, while sipping, without really noticing. Dacus makes sure I get a paper towel and a moment to stanch the bleeding. Baker asks if I'm OK. Bridgers shares a consoling story about herself getting jammed in the mouth with a glass bottle and then breaking out into tears. For a few minutes, the warm insular Boygenius embrace is extended out.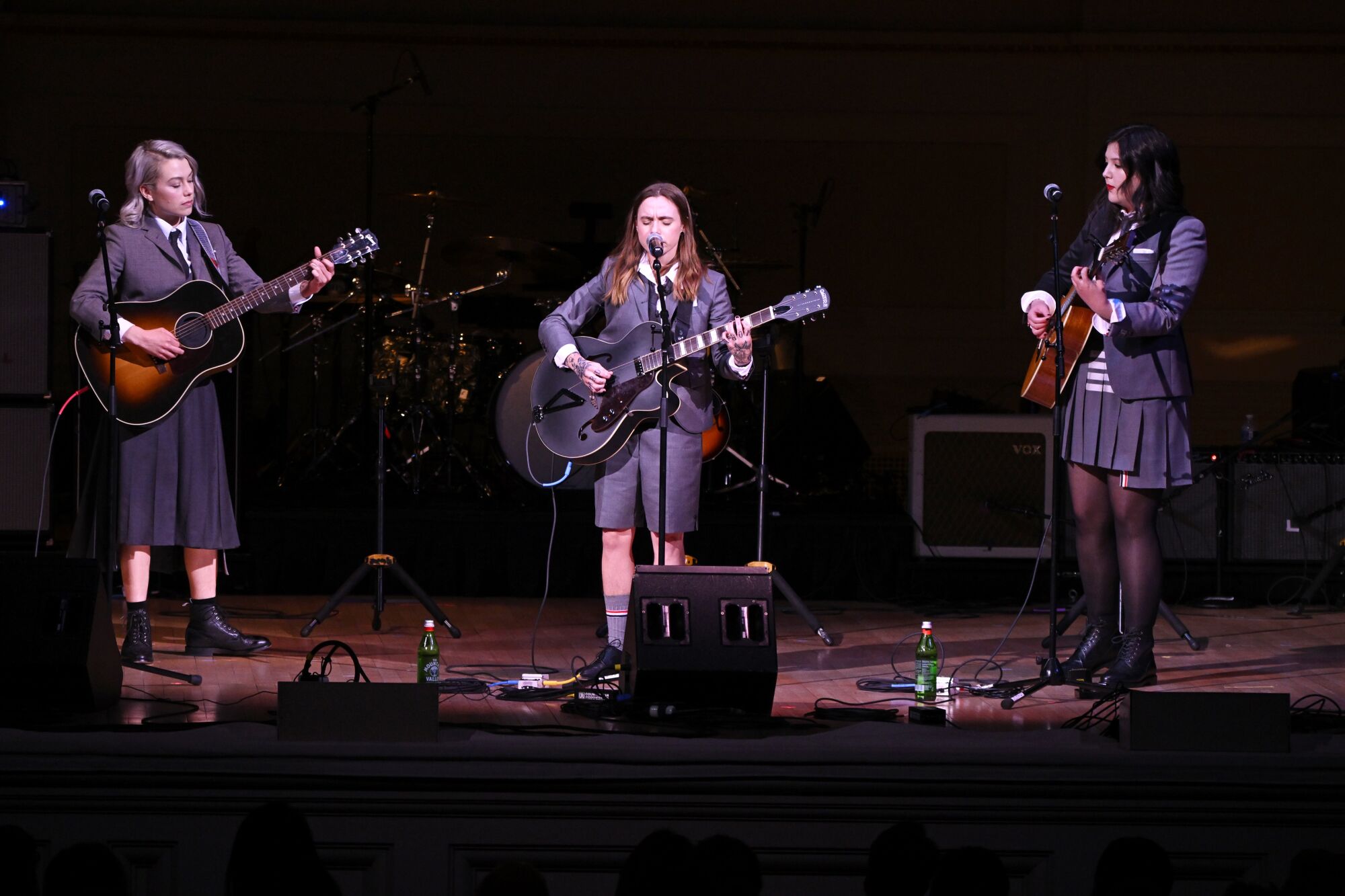 Boygenius is an anomaly: indie-aesthetic guitar bands who sing about really sad stuff aren't supposed to be buzzy major label darlings in 2023. Frankly, we were supposed to be all out of rock bands both good and popular enough to justify the ongoing existence of the covers of legacy music magazines. The way they've built themselves into this prominence, without doing anything much other than writing really good songs, feels remarkable. But if there's any one thing that they're about, well, it's just themselves. The story that's being told here is that people can find other people that they love and work with them without that, eventually, making everyone hate each other. That you can come together every once in a while, make something good, and then stop.
Marks said the way Boygenius works isn't at all typical. "The band cliche is a cliche for a reason," she said, "whereas this was three awesome mates who wanna hang out together. There was never any passive-aggression. There was no sense of hierarchy. There's always gonna be tension in the studio just because it is a creative and emotional experience but everything was discussed really openly. I've never experienced that."
In their solo careers, Dacus says, fans can get overly fixated on how the biographical informs the music. That comes, in part, from what they've each individually shared through their flourishing solo careers. Largely, those are healthy discourses. Baker is candid and direct about her sobriety and how it's aided her career. Dacus, Bridgers and Baker identify as queer, which has largely led to an outpouring of good vibes. (Representative headline: "The Infinite Gay Joy of Boygenius.") But fixation on the personal can also come from an unchecked obsessiveness, especially with Bridgers, whose breakup with actor Paul Mescal generated cringey tabloid headlines and who is famous enough to present awards to Taylor Swift.
With Boygenius, though, "people are engaging not with our identities but with the thesis statement of the whole thing," Dacus says. "Our interpersonal dynamics" — the collective, not the individual — "are part of the personality of the band. And it takes no effort." Adds Bridgers, "The thesis statement came after the thing, you know?" No one ever suggested "we should start a band that feels genuine," she says — they just did it. "And it's just a bottomless well of love and emotion, and we're not gonna run out of love for each other."
This summer, Boygenius will crisscross the U.S. and Europe playing festivals and amphitheaters. Directly after the album's release, the next big moment will be Coachella. It'll be the largest audience the band's ever played, and they're terrified of messing up a song, of technical nightmares that are out of their control, of something going horribly wrong on the biggest stage. They're playing April 15 and 22, on the festival's Saturday nights ahead of the headliner, Blackpink, the massive K-pop girl group. But the group knows it's going to be supported out there, no matter what. "Our fans root for us," Dacus says. "Some bands, their fanbase hate-watches them. We get love-watched."
And Boygenius loves its fans right back, especially the kids. "We talk about people's disdain for 'what the teens are doing,'" Dacus says. "And it's like, do you not remember that you needed all those spaces? When I was a teen, I went to festivals, and those shows are burned into my head. When I think about a live show, I'm thinking about that."
Bridgers mutters, in the gruff matter of a genius ex-con safe-breaker who swore she'd given it all up but just agreed to do one last job: "Stakes are so high."
Adds Dacus, "Those spaces, I think, are sacred."