Read Time:
8 Minute, 27 Second
Center Theatre Group announced Friday that it has appointed Snehal Desai artistic director, filling the role vacated by Michael Ritchie in 2021. The producing artistic director of East West Players since 2016, Desai is the first artistic director of color in CTG's history.
"Equity, diversity and inclusion is central to my core being as an artist and as a leader, and that work is going to continue," Desai said in an interview with The Times, adding that he hoped CTG made its decision to hire him with that knowledge in hand. EWP produces work featuring Asian American themes and artists and is the nation's longest-running professional theater of color.
As Los Angeles' flagship theater organization — and one of the nation's largest nonprofit theater groups — CTG is at a crossroads in its history. Buffeted by a series of crises and challenges beginning with the Great Recession and culminating with the COVID-19 pandemic and the social justice movement that arose in the wake of George Floyd's murder, the group is struggling to find its footing in a drastically changed artistic and sociopolitical landscape.
Since the summer of 2021 — when Ritchie announced his intention to leave in order to "make space for other people" — industry watchers have been paying close attention to whether CTG would see this as an opportunity to take a leap into the future or an excuse to double down on the status quo.
In Desai, CTG has found a well-respected local leader and artist, a skilled fundraiser and a known champion of theaters of color. At CTG, Desai will take on an organization that recently used special funding including money from FEMA and employee revenue tax credits to offset an $8-million budget shortfall. He will also go from operating a theater with 240 seats to running three venues — the Mark Taper Forum and Ahmanson and Kirk Douglas theaters — with more than 3,000 seats total. He will graduate from overseeing about $1.1 million in total annual revenue to a little more than $46 million, to go by the most recently available tax records for EWP and CTG, from 2020. His salary, according to those same tax records, will spike from around $78,000 to something in the six figures (in 2020 Ritchie earned nearly $600,000).
Adding to the already high stakes, the future of the Kirk Douglas Theatre may be in peril. The venue is located in Culver City adjacent to a planned affordable housing project, and CTG's managing director and CEO Meghan Pressman acknowledged that it "may be necessary to close the theatre temporarily to accommodate construction." If that happens, reopening may not be easy or optimal in a cash-crunched organization.
Desai, however, is undaunted. He told The Times he enjoys a good challenge and — after a decade working in L.A. theaters — feels ready to dive in at CTG.
"When I came in at EWP, we had maybe two months of operating costs in the bank, no lines of credit, massive amount of debt. But I was able to turn the ship around," Desai said. "I would say CTG is in a similar hard moment right now. The times are different and so is the scale, but I've been through it."
Pressman wrote in an email that the board chose Desai out of more than 100 applicants from around the globe based on his "artistic vision and direction that aligned extraordinarily well with CTG's mission" and values, encompassing "artistic ambition, artistic identity, risk-taking and innovation," as well as an ability to center L.A. in the organization's work.
Although Pressman says the Taper and Kirk Douglas Theatre have gained subscribers this season, she acknowledged that the Ahmanson has "had its struggles coming off the pandemic." The Taper has long been considered one of the preeminent stages for drama in the nation, though its prestige has declined in recent years as a result of what critics describe as the lackluster leadership of the Ritchie era — when CTG became known for producing safe, palatable productions and not challenging its artists or audiences with creatively edgy work.
Founded in 1967 by Gordon Davidson, Center Theatre Group was once renowned for its commitment to socially engaged drama. The Taper, the jewel of the company, launched the premieres of "Zoot Suit" (1978), "Children of a Lesser God" (1979), Tony Kushner's "Angels in America" as a complete epic (1992) and Anna Deavere Smith's "Twilight: Los Angeles, 1992" (1994).
Ritchie had his share of successes, but his focus on Broadway led the company away from its nonprofit mission and muddled its identity. Theatergoers, surfeited with entertainment options at home, have been less inclined to commit to season subscriptions, placing more pressure on programming to come up with sure-fire hits. This decline has been systemic — no theater in American is immune — but Center Theatre Group has seemed especially adrift in recent years, an institution struggling to find a sustainable path to the future.
The pandemic compounded an already difficult situation. CTG stages remained dark for 20 months and the organization suffered an estimated loss of $45 million to $55 million in ticket revenue during that time. The company had to lay off two-thirds of its staff, and its remaining employees took substantial pay cuts. Now that shows have been up and running for more than a year, CTG—like theaters everywhere—is facing an extremely fraught recovery with subscribers hesitant to return, changing leisure-time habits, and lingering pandemic-induced reluctance cutting into audiences and ticket revenue.
Six months before Ritchie's departure, playwright Luis Alfaro was added to a brain trust of fellow associate artistic directors that included Lindsay Allbaugh, Tyrone Davis, Neel Keller and Kelley Kirkpatrick. These five leaders operated as an interim artistic team, but Alfaro left abruptly in early 2022, sharing a letter on Facebook that he sent to CTG, stating: "We have a long way to go in our pandemic recovery AND in our commitment to equity and diversity…A training does not make change, change makes change. Making art is making tension, so keep pushing against all that we know needs shifting." Alfaro declined to comment on his departure to The Times when he left.
In the fall of 2021, CTG received harsh criticism for programming the work of only one female writer in its 2021-22 season. This resulted in playwright Jeremy O. Harris threatening to pull his critically acclaimed work, "Slave Play," from that year's lineup at the Taper. CTG responded by committing to programming the entire 2022-23 Taper season with plays written by women-identifying or nonbinary playwrights, the majority of whom would be BIPOC artists.
In an open letter signed by the five associate artistic directors at the time, CTG wrote: "As an organization that is actively working toward being anti-racist and inclusive, we take responsibility for the lack of intersectionality of social identities and experiences on our stages."
Pressman and Ritchie did not sign the letter. In a statement to The Times, Pressman said that was because the group of associate artistic directors were beginning "to pick up the leadership mantle for season planning and strategy as we start to look toward next season and time in transition between artistic leaders."
Desai's appointment should not change CTG's organizational structure — or affect the role of the associate artistic producers — Pressman said. Desai, however, will partner with Pressman in looking at the overall needs of the company.
"Meghan [Pressman] and I went to the Yale School of Drama together. She and I have known each other for almost 20 years. She's someone I trust," Desai said. "What's clear is that my charge is the artistic vision of this organization. What we have to both figure out is how to fulfill that mission within the means and resources that we have at this time."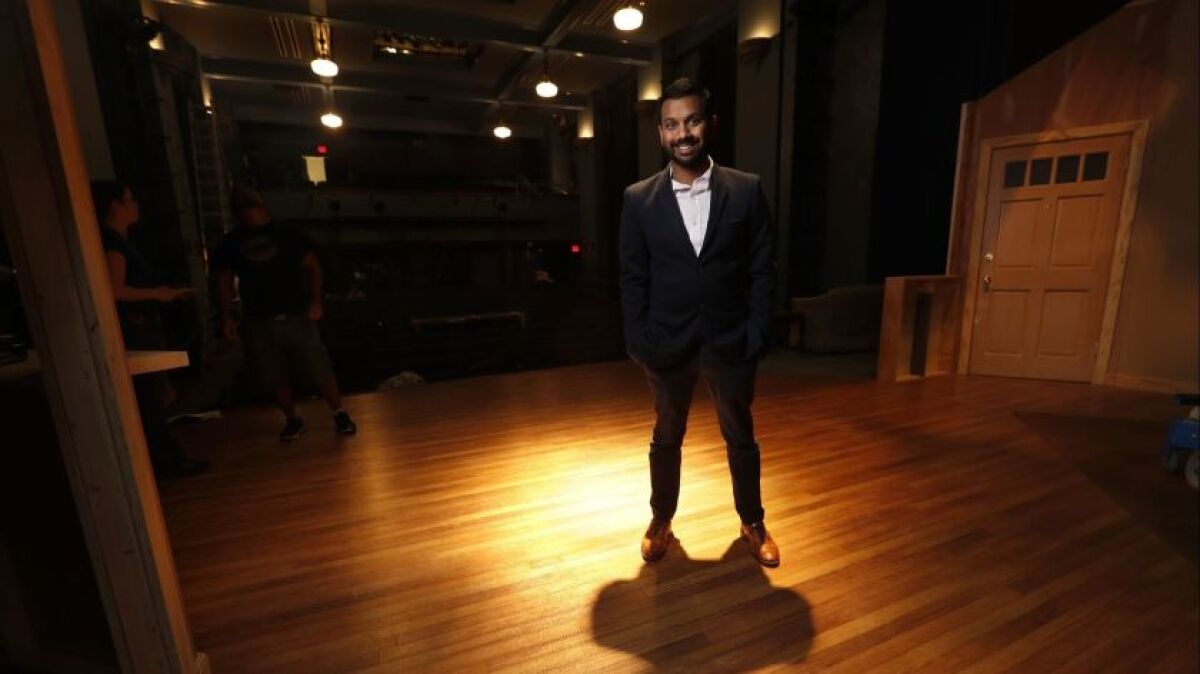 Desai, 43, is the son of Indian immigrants. He was raised in Pennsylvania and graduated from Emory University. He received an MFA from Yale before beginning his career as a director. In 2013 he was hired as East West's literary manager and later served as an artistic associate. In 2016 he became artistic director, taking over the downtown L.A. theater company from Tim Dang, who had led the institution since 1993.
The year after Desai stepped into his new role, EWP partnered with CTG on the world premiere of David Henry Hwang's and Jeanine Tesori's "Soft Power," which imagined a world in which China dominated pop culture instead of the United States. The show received mixed reviews, but cemented a productive working relationship between Desai and CTG.
"Snehal's got great talent, energy and ambitions for his company's future," CTG's Ritchie said in an interview at the time.
Desai is also known for his community engagement and activism. In April 2021, when the L.A. Stage Alliance mispronounced the name of Asian actor Jully Lee while showing a picture of a different Asian actor, Monica Hong, onscreen during its annual Ovation Awards show, Desai was the first artistic director to revoke his company's LASA membership in protest.
The resulting uproar led dozens of theaters to also revoke their memberships, and LASA ultimately shuttered operations. Desai told The Times that he was disappointed LASA chose to close up shop, saying he had hoped the organization would take the time to do better and emerge stronger.
"A true service organization is not focused on itself, and its own visibility or survival through awards," Desai said. "It's focused on lifting up the community."
The work of equity, diversity and inclusion is larger than any single hire, but appointing a local theater leader of color to guide Center Theatre Group represents a watershed moment not just for the company but for all of Los Angeles theater.