Read Time:
6 Minute, 47 Second
On Sept. 24 the L.A. Times Book Club hosted Black Poets in a Time of Unrest, featuring National Book Award winner Robin Coste Lewis, the Los Angeles poet laureate, in conversation with reporter Makeda Easter.
Lewis joined a lineup of poet performers sharing their experiences in verse: Natalie J. Graham, Ashaki M. Jackson, Douglas Kearney, jayy dodd, Amaud Jamaul Johnson, Khadijah Queen and Kima Jones, the co-host of the event with the L.A. Times Book Club. Watch.
The August book selection is" The Vanishing Half," Brit Bennett's bestselling novel about twin sisters, identity and family secrets. "You can escape a town but you can not escape blood."
Bennett joined book club readers Aug. 25 for a conversation with Times writer Carla Hall. Watch here.
Keep reading: book review, book club newsletter.
"Why We Swim" by Bonnie Tsui is the book club's July selection.
Tsui, a Bay Area journalist, surfer and former competitive swimmer, joined Times reporter and masters swimmer James Rainey July 28 for a virtual meetup. Long-distance swimmer Lynne Cox shared her favorite passage during the event.
"Why We Swim" is a mix of memoir, history and swim adventure that journeys from the California Coast to Iceland's swim culture to the "Hawaii" of the South China Sea.
"The Compton Cowboys," a true story about identity and belonging by Walter Thompson-Hernández, is the June selection.
The book traces the history and fragile legacy of black cowboys in a Los Angeles bedroom community. The cowboys' credo: "Streets raised us. Horses saved us."
Thompson-Hernández joined us June 24 for a conversation with Times reporter Angel Jennings. Here are 5 Things to know about The Compton Cowboys.
Keep reading: Interview with the author, a book excerpt and the book club newsletter.
Emily St. John Mandel, author of the bestselling pandemic novel "Station Eleven," joined the Los Angeles Times Book Club on May 19. Her new book, "The Glass Hotel," revolves around another issue of great current concern — a financial crisis.
Watch Mandel in conversation with Times reporter Carolina A. Miranda.
Mandel and other authors, including Susan Orlean, T.C. Boyle, Marlon James, Charlie Jane Anders and Jess Walter, helped us put together this end-of-the-world reading list.
Writer Fanny Singer and her mother, renowned chef Alice Waters, will join Los Angeles Times Book Club readers on April 21 for a virtual meet-up from Waters' home kitchen in Berkeley.
During April we read "Always Home: A Daughter's Recipes & Stories," Fanny Singer's memoir about growing up at an epicenter of California cuisine. Singer is the daughter of Alice Waters, the chef behind Chez Panisse Café in Berkeley and the founder of the Edible Schoolyard Project.
Singer and Waters joined the L.A. Times Book Club on April 21 to discuss food and family with Times arts and entertainment editor Laurie Ochoa. Watch their conversation here.
Singer's memoir with recipes strikes just the right note for this strange time of sheltering in place. "It feels like a moment to redefine how we relate to the things that we consume," Singer says in an interview. Her favorite roast chicken recipe is here.
On March 30, the L.A. Times Book Club rebooted with its first virtual event: novelists Steph Cha and Joe Ide joined Times reporter Maria L. La Ganga to discuss the new world of L.A. noir.
Cha is the author of the bestselling 2019 thriller "Your House Will Pay." Ide's new mystery is "Hi Five," the fourth book in his "IQ" detective series set in East Long Beach. The book club conversation streamed live on Facebook and YouTube.
On Saturday, Feb. 15, former Los Angeles poet laureate Luis J. Rodriguez discussed "From Our Land to Our Land," a new collection about race, culture and identity, with Times reporter Daniel Hernandez at the Colony Theatre in Burbank.
More: Does Poetry Matter? L.A.'s former poet laureate explains why it's life changing. Read an author interview.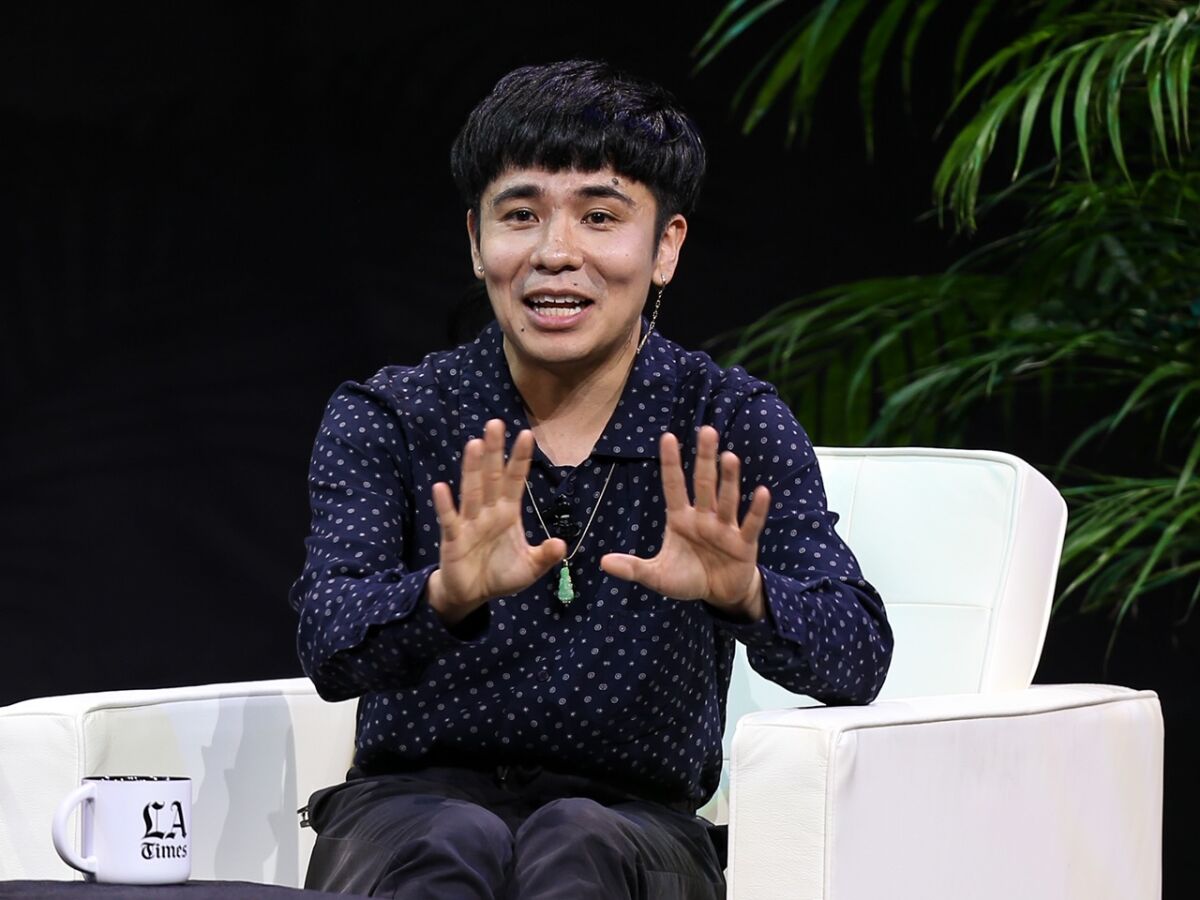 On Jan. 27, author Ocean Vuong shared his debut novel, "On Earth We're Briefly Gorgeous," with Times arts and culture reporter Carolina A. Miranda at the Montalban Theatre.
On Dec. 16, the book club welcomed Homeboy Industries founder Gregory Boyle for a breakfast conversation with author Héctor Tobar about "Barking to the Choir." Read our interview with Boyle and five things to know about his book and his work. For school groups and book clubs, here's a discussion guide to "Barking to the Choir."
On Nov. 18, Julie Andrews shared stories from "Home Work: A Memoir of My Hollywood Years" in a conversation with Pulitzer Prize-winning Times columnist Mary McNamara at the Orpheum Theatre.
Read The Times' interview with Andrews and review of her new memoir, plus film critic Justin Chang's commentary.
On Oct. 22, Ronan Farrow discussed surveillance, counter-surveillance and the stories behind "Catch and Kill," his new book detailing sexual abuse allegations against Harvey Weinstein and other powerful men. Read The Times' interview with Farrow.
On Oct. 21, best-selling crime writer Michael Connelly joined book club readers for the launch of "The Night Fire." He also previewed two upcoming books and talked about living with the same character for 27 years.
Keep reading: Here's a look at 15 iconic Harry Bosch haunts across L.A., plus 20 essential L.A. crime books, and this special report on why L.A. is the perpetual dark heart of crime writing.
On Sept. 10, actor and author George Takei discussed "They Called Us Enemy," a graphic memoir about his childhood years in Japanese American internment camps during World War II. Watch a segment from the event on LA Times Today.
For book clubs and school groups, here is a discussion guide.
Author Laila Lalami joined Times reporter Lorraine Ali for a conversation about "The Other Americans, "a mystery and family saga set in the Southern California desert.
Here's an interview with Lalami and five things to know about "The Other Americans."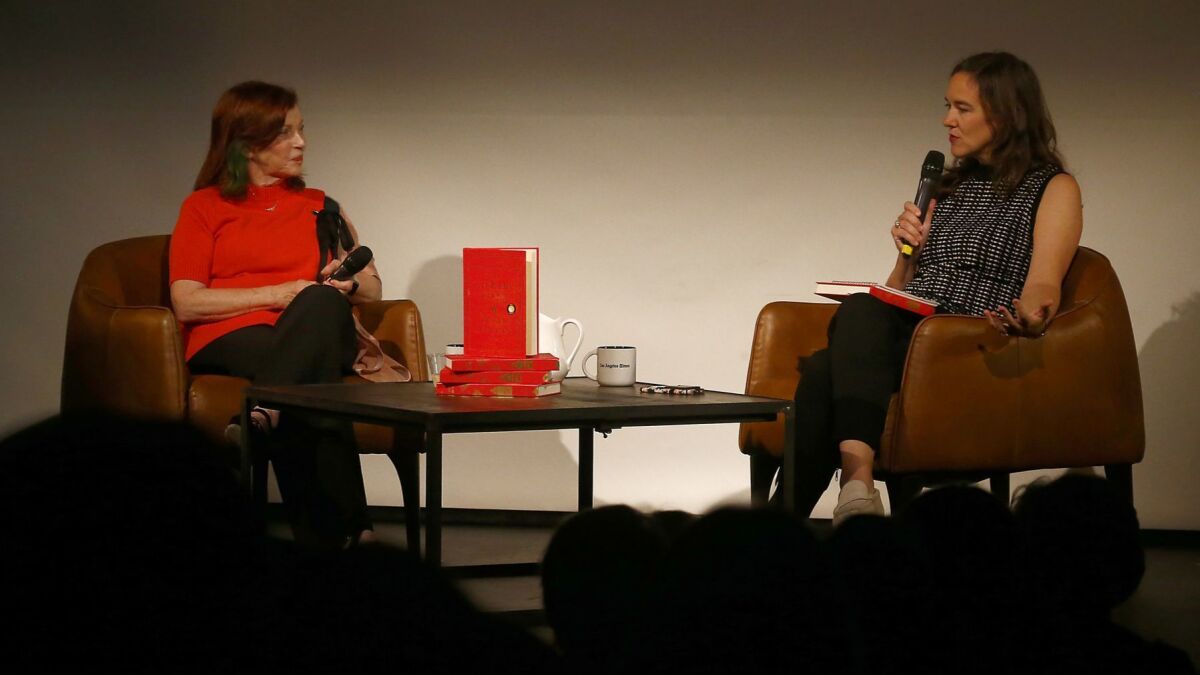 In June we read "The Library Book" by bestselling author Susan Orlean and hosted a community forum where Orlean and readers shared library stories. We also took a deep dive to explore what L.A. is reading right now and showed book lovers how to read for free with library apps.
The L.A. Times Book Club builds on the success of America's largest literary event, the Los Angeles Times Festival of Books, which attracts 150,000 people every April. Our community book club keeps the storytelling and conversation going year-round.